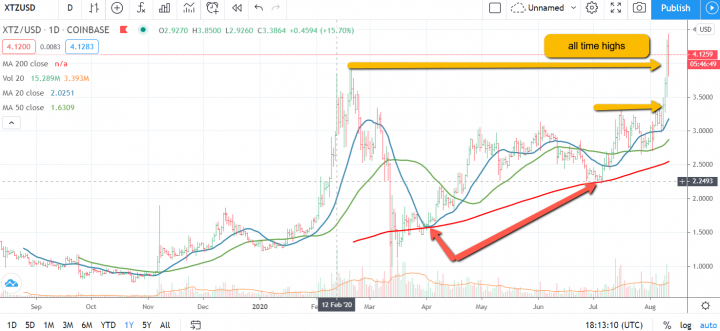 I've been a long time trader of stocks, ran an advisory service back in the day and written about trading for many years using a mostly technical trading approach (at https://www.selfinvestors.com which I left to focus on ecommerce so a few mothballs there!). The technical trading aspects apply to the crypto markets as well in terms of support/resistance levels, base breakouts, etc. Crypto offers intriguing trading vehicles and they should be thought of as highly volatile small cap stocks in terms of risk. With bigger risk, comes much bigger rewards!
One alt coin position I've been adding to personally is Tezos. In recent days it's broken out to all time highs above around $4 so looks poised for further gains ahead. Here's a look at the chart.
I've been adding to this crypto coin since the $1.50 level as it found support at the 200 day moving average (red line). It cleared a cup with handle base around the 3.35 level a few days ago (offering another entry) and then yesterday cleared all time highs around the $4 level.
I'm not making a recommendation to buy or sell just what I'm seeing and doing personally. Please do your own research and never risk more than you can afford to lose.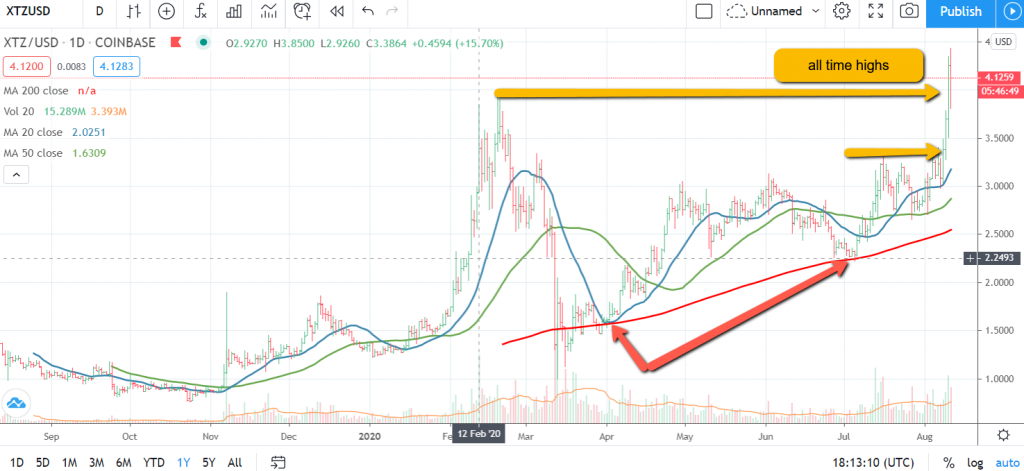 Aug 21, 2021 UPDATE:
It's not uncommon for a breakout move to retrace the move offering a 2nd chance to get in and I believe this is what Tezos is offering here. It broke through new support at all time highs around 4 and has returned to the previous base breakout point around the 3.30 level. This also happens to be close to the 50 day moving average (green line in chart below) which is a common area of support. I have added some shares at this level although it might be a bit early.
Crypto on the whole is consolidating across the board and I don't think this move is finished. It coincides with a consolidation in gold/silver stocks which increasingly are moving in tandem (to some degree). This is great news for those that missed the initial big moves in gold/silver/crypto.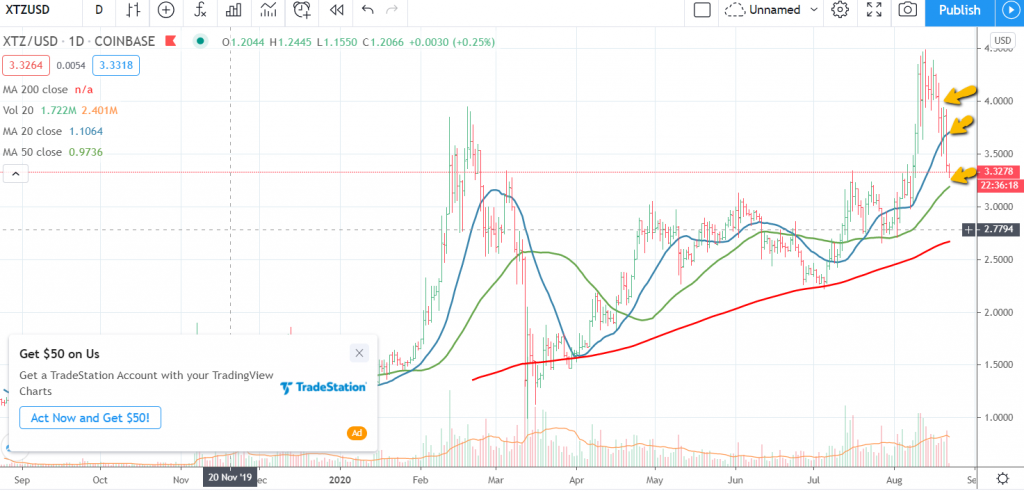 Categories: Crypto